Research
The first step was to determine the redesign goals. For that, I set out to review the existing website content, conduct stakeholder interviews and finally, conduct user interviews.
Heuristic Evaluation
To identify the immediately obvious design goals, I conducted a short, concise heuristic evaluation of the current design.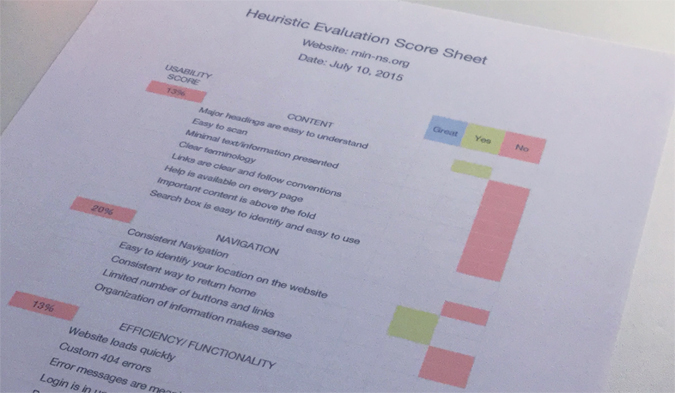 The findings weren't surprising, but they highlighted some of the main issues with the old design. Specifically:
the information architecture and the navigation structure was confusing and inconsistent
the design of the links was inconsistent
the website was not mobile optimized
the purpose of the organization was not clear
visual design and a good portion of the content was outdated
Content Inventory
To get a grasp of information architecture, I created a sitemap snapshot of current design. It was messy and lacked logical flow. I created a folder structure based on the sitemap and saved screenshots, text and graphical elements of each page.
Industry Analysis
In order to gauge the current standards of the regional healthcare industry, I was directed to observe the founding hospitals' websites. MIN-NS being an innovative company had few comparable businesses in the US, and the ones that did were in just as much trouble with their lack of good design. I collected the highlights of this research and presented it as part of the design proposal to the executive team.
User Research
Based on the previous data logs, content analysis and some interviews, I was able to define four types of users and their main reasons for visiting:
Partners (stakeholders interest)
Current Network Members (looking for help and more info)
Prospective Network Members (information to join)
State Officials (compliance, information)
Local Citizens (information)
This clarified that there were two primary goals for the website - offer structured access to information on what MIN-NS does and facilitate user help support to network participants.
Stakeholders Interview
Meeting with the members of the executive team helped with clarifying questions about the organization's background, services provided, target audience, and business goals for the project and company. Following that, I presented my findings to them and we agreed on the business and design goals. For future development reasons, working with WordPress CMS was not approved.
Do whatever you got to do, but do it in Umbraco."
Working with Umbraco would be a challenge, I was used to working with WordPress and PHP. Umbraco was .NET based with Razor C# syntax. However, I was given plenty of time to study the new environment during the development phase.